Prime MPC™ (Maximum Prostate Care)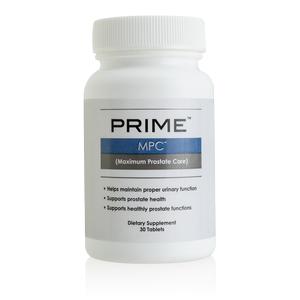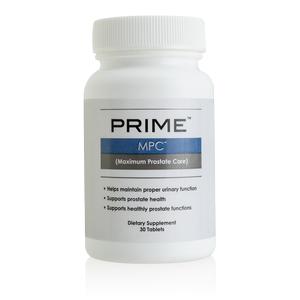 $82.00 SGD
GST of $6.07 SGD included
$1.52 SGD
Single bottle (30 servings)
SKU: SG13158
FEATURED RECOMMENDATIONS
Benefits
---
Helps maintain proper urinary function
Supports prostate health
Supports healthy prostate functions
Product Classifications
---
Gluten-Free - The finished product contains no detectable gluten
Vegan - The product is made without ingredients produced by or derived from animals.
No Pork - This product contains no pork or pork products.
Quality Standards - GMP Operations and Standardised Ingredients
Checked For: Heavy Metals, Microbiological Contaminants, Allergens, Potency, Purity and Identity
Details
---
Every man should be aware of the need for taking the right steps to maintaining prostate health. Prime MPC provides prostate support by helping to support healthy prostate functions.

The prostate function plays a critical role in men's health. Maintaining prostate health is essential for a man's overall health and enhances quality of life.

The use of herbs to promote male wellbeing is increasingly popular. Prime MPC combines five potent herbal ingredients and two select nutrients that work synergistically to promote health. Each of these ingredients has been carefully selected to benefit men's prostate health.

This unique formulation of Prime MPC provides prostate support and work to support prostate health and provide antioxidant protection.
Ingredients
---
Plant Sterols
Research has shown that supplementing with plant sterols, especially beta sitosterol, helps to maintain a healthy prostate. Animal research suggests that plant sterols might also promote normal 5-alpha-reductase activity.

Stinging Nettle Root Extract
Stinging nettle or common nettle, Urtica dioica, is an herbaceous perennial flowering plant, native to Europe, Asia, northern Africa and North America. Stinging nettle research suggests that it helps maintain normal levels of 5-alpha-reductase.

Pumpkin Seed Extract
Pumpkin seed extract is rich in protein, carotenoids, vitamin E, and fatty acids. Pumpkin seed extract aids in prostate health by helping to maintain bladder comfort.

geniVida™† (Genistein)
geniVida is a high-purity, non-plant derived, non-allergenic form of genistein. Genistein is a flavonoid that has been shown to support prostate functions in men. Genistein appears to inhibit 5 alpha-reductase.

†geniVida is a trademark of DSM Nutritional Products.

Grape Seed Extract
Grape seed extract contains polyphenols, compounds with antioxidant activity. Research has shown that grape seed extract can support healthy prostate functions.

Zinc
Zinc is an important trace mineral found in every cell of the body. The best dietary sources of zinc are from seafood, meats, fish, poultry and eggs.

Zinc helps to maintain prostate health. Within the body, zinc accumulates higher in prostate than in any other soft tissue and those with prostate concerns often test low for zinc.

FAQ
---
Is Prime MPC (Maximum Prostate Care) for men only?
Yes. While the ingredients in this product could be beneficial to everyone, it is especially designed for a man's body, particularly with maintaining a healthy prostate. Each ingredient in Prime MPC is helpful to a variety of health issues that may affect men and women, however, Prime MPC was created for each of these ingredients to work synergistically to promote a healthy prostate.

Is Prime MPC (Maximum Prostate Care) only for older men?
No, this product is designed for men of all ages. While poor prostate health is rare in younger men, men of all ages should be concerned with proper prostate support. The ingredients would be beneficial for all men. Men should take care of their prostate when they are younger to help maintain prostate health in the future.

Is taking Prime MPC (Maximum Prostate Care) all I need to do to maintain a healthy prostate?
No. Dietary supplements alone are not the only way to support healthy prostate functions. A sensible diet, regular exercise, as well as avoiding cigarette smoking and excessive alcohol consumption, are elements of a healthy lifestyle that can contribute to healthy prostate maintenance.

Does Prime MPC (Maximum Prostate Care) contain pork or pork products?
No.

Is Prime MPC (Maximum Prostate Care) manufactured in a Good Manufacturing Practice (GMP) facility?
Yes, this product is manufactured in a GMP compliant facility which is inspected by the Food and Drug Administration (FDA) of the United States of America.

TLS Product Reviews
---
Displaying reviews 1 - 5 of 13
---
After taking MPC for a month, it eases his urine function much easier..
---
Urinary Function Improves
My husband has met some urinary function issue for the past few months. However, after consuming Prime MPC, it has helped to maintain proper urinary function.
---
I introduced this supplement to my hubby to take… since then, he will ask for the repeated order when he has finished. Best of all, he recommends it to his buddies too! 😊
---
Prostate help my customer
This elderly customer one day approached me to recommend a supplement for prostate. After taken it for the first time, he said, his dtomack don't feel bloated, urine is better, he just feel good.
Response from Customer Service:
14/3/2022
Dear Valued Customer,

Thank you for taking the time to leave your thoughts on the Prime MPC™ (Maximum Prostate Care). We are happy to hear you are pleased with the product.

Thank you again!
Market Singapore Product Team
---
After learning more about how prostate cancer can occur in all men, I have been taking this for many months for precaution.