Heart Health™ System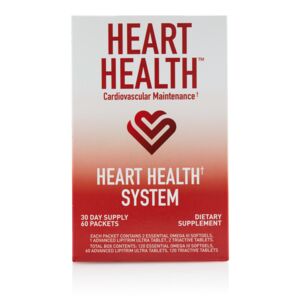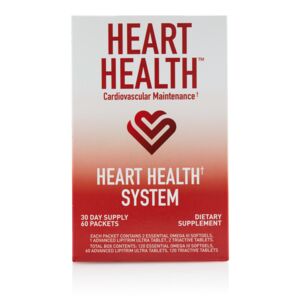 $168.75 SGD
GST of $11.04 SGD included
$3.15 SGD
Single Box Includes Advanced LipiTrim Ultra, Essential Omega III Fish Oil, TriActive (30-Day Supply)
SKU: SG13847
FEATURED RECOMMENDATIONS
Benefits
---
Heart Health™ Essentials Omega III Fish Oil
Helps maintain normal blood flow
May help to maintain normal triglyceride levels in the blood
May help to maintain overall cardiovascular health
Helps maintain a strong heart muscle
Helps maintain normal homocysteine levels (which promotes cardiovascular health)
Helps maintain normal levels of cholesterol
Provides antioxidant
Heart Health™ Advanced LipiTrim™ Ultra
Helps support healthy levels of cholesterol and triglyceride levels
Provides antioxidant support for the heart

MAHP2000482
Product Classifications
---
Gluten-Free - The finished product contains no detectable gluten.
No Pork - This product contains no pork or pork products.


MAHP2000482
Details
---
Heart disease is the leading cause of death in the United States and worldwide for both men and women. Many factors may contribute to poor heart health, such as regularly eating an unhealthy diet of processed, high-calorie and high-fat foods, smoking, or living a sedentary lifestyle. Equally, uncontrollable elements like pollution may also put you at risk for cardiovascular issues.
Supplementing with omega-3 fatty acids (found in fish oil) may help to maintain normal levels of triglycerides. Maintaining healthy triglyceride levels and supporting healthy homocysteine levels are all important to the overall health of the cardiovascular system.


The Heart Health System is comprised of Heart Health Essential Omega III Fish Oil with Vitamin E, Heart Health TriActive and Heart Health Advanced LipiTrim Ultra, all designed to promote overall cardiovascular health. Heart Health Essential Omega III Fish Oil with Vitamin E provides EPA (eicosapentaenoic acid), DHA (docosahexaenoicacid) and other omega 3 fatty acids that promotes overall cardiovascular health.Heart Health Advanced LipiTrim Ultra is composed of Capros± Indian Gooseberry, anantioxidant that helps support health as well as provides support for cardiovascular health. It also helps promote healthy levels of cholesterol and triglyceride levels. Heart Health TriActive targets major areas, cholesterol and homocysteine levels to promote the healthy performance of the body's cardiovascular system. This unique formula uses a combination of natural ingredients that can help maintain normal cholesterol and homocysteine levels.



±Capros is a registered trademark of Natreo, Inc. and is protected under U.S Patent No. 6,124,268.

This product is not intended to diagnose, treat, cure or prevent any disease.


MAHP2000482
Ingredients
---
Heart Health Essentials Omega III Fish Oil
Fish Body Oils
Fish oils or marine oils, are lipids (fats) found in fish, particularly cold water fish like herring, kipper, mackerel, menhaden, pilchard, salmon, sardine and trout, and phytoplankton (the sources of fish oil in Heart Health™ Omega III Fish Oil with Vitamin E are sardines and anchovies, tested by the manufacturer and an independant testing company of mercury, lead and other heavy metals). Fish oils are rich sources of omega-3 long-chain polyunsaturated fatty acids. EPA (eicosapentaenoic acid) and DHA (docosahexanenoic acid) are the two most studied fish oils. DHA is a necessary component of the phospholipids in human cellular membranes, especially those found in the brain and retina. omega-3 fatty acids can help to maintain healthy triglyceride levels. Fish oils are also important in the maintenance of normal blood flow.


EPA and DHA help maintain normal triglyceride levels by promoting normal lipogenesis and supporting normal fatty acid oxidation in the liver.


Vitamin E
The valuable sources of dietary vitamin E include vegetable oils, margarine, nuts, seeds, avocados and wheat germ. Safflower oil contains large amounts of vitamin E and there are trace amounts in corn oil and soybean oil. Vitamin E is actually a family of related compounds called tocopherols and tocotrienols.


The main health benefit of supplemental vitamin E comes from its antioxidant activity. It supports a healthy cardiovascular system. Vitamin E is one of the fat-soluble antioxidants in the body. In turn, vitamin E protects cell membranes from free radicals. Vitamin E is commonly added to fish oil supplements to provide antioxidant protection of DHA and EPA.


Heart Health TriActive

Thiamin (thiamin HCI)
Thiamin plays an important role in carbohydrate metabolism and nerve function.


Riboflavin
Vitamin B2 serves as a co-enzyme, working with other B vitamins. It promotes healthy red blood cell formation. Vitamin B2 is water-soluble and cannot be stored by the body in significant amounts. It must be replenished daily. Under some conditions, vitamin B2 can act as an antioxidant. The riboflavin coenzymes are also important for the transformation of vitamin B6 and folic acid into their active forms and they promote the normal conversion of tryptophan into niacin.

Niacin (niacinamide)
Niacin is a water-soluble vitamin necessary for many aspects of health. It is part of the vitamin B complex. Niacin (also known as vitamin B3) is found in dairy products, poultry, fish, lean meats, nuts and eggs, as well as legumes and enriched breads and cereals.


Vitamin B6 (pyridoxine HCl)
B6 is a co-factor required for protein and amino acid metabolism and helps maintain proper fluid balance. It also assists in the maintenance of healthy red and white blood cells. B6 is required for haemoglobin synthesis. Vitamin B6, when taken with folic acid, has been shown to help maintain normal plasma levels of homocysteine, which promotes cardiovascular health.


Folate (folic acid)
Folic acid plays a key role by boosting the benefits of B12 supplementation. Folic acid assists in the normal utilisation of amino acids and proteins, as well as constructs the material for DNA and RNA synthesis. This works toward supporting a healthy cardiovascular system.


Vitamin B12 (cyanocobalamin)
Vitamin B12 is naturally found in organ meats, liver, beef, pork, eggs, whole milk, cheese, whole wheat bread, and fish. B12 can only be found in animal products, with small amounts derived from the fermented soy products miso and tempeh and peanuts. It is essential that vegetarians consume a vitamin B12 supplement to maintain health. Vitamin B12, when ingested, is stored in the liver and other tissues for later use.


Biotin
Biotin supports healthy cell growth, the production of fatty acids, metabolism of fats, and amino acids.


Pantothenic Acid
Pantothenic acid is the transfer agent for choline to acetylcholine.


Calcium
Calcium is an essential mineral with a wide range of biological roles. Calcium promotes normal cardiovascular health.


Zinc
Zinc is an essential trace mineral that has functions in approximately 300 different enzyme reactions.


Beta-sitosterol
Beta-sitosterol is a phytosterol produced by plants, with a chemical structure like cholesterol. Beta-sitosterol may help maintain normal cholesterol levels. *


Artichoke Leaf Extract (Cynara scolymus)
Artichoke is a perennial plant native mainly to the Mediterranean region of Southern Europe and Northern Africa. Artichokes are rich in minerals such as potassium, magnesium and phosphorus, which are known to support heart health. While artichoke is consumed as food for its fibre, protein and antioxidant properties, its leaves have been used for supporting heart health.


Hawthorn Berry Extract (Crataegus pinnatifida)
The bioflavonoid content of hawthorn berry aids in supporting healthy blood vessels, supports a strong heart muscle and promotes the structural integrity of arteries. hawthorn berry is beneficial in maintaining heart health.


Policosanol
Policosanol is a mixture of long-chain alcohols that is isolated from sugar cane wax, beeswax, rice, or wheat germ oil. It has been shown to help maintain normal cholesterol levels in animal models and healthy volunteers.


Heart Health Advanced LipiTrim Ultra

Capros Indian Gooseberry Fruit
Capros is a non-GMO Indian gooseberry fruit product. Indian gooseberry is native to India and parts of the Middle East and its fruits have been used in Ayurvedic medicine for thousands of years to promote heart health. Although small, the fruits are a nutritious source of vitamins, minerals, amino acids, and a diverse blend of polyphenolic compounds.


Indian gooseberry helps maintain cardiovascular health.

Prickly Pear (Opuntia ficus-indica) Leaf Powder
Prickly Pear Cactus, as call Nopal cactus, is an edible cactus native to Mexico and widely distributed in regions of Africa, Australia, and the Mediterranean basin. The cactus fruit and the leaves are edible and have been used traditionally to support good health. Prickly pear cactus' fruit and leaves are considered functional foods as they impart health and wellbeing when eaten.


Citrus Bioflavonoid Complex (Citrus aurantium L.)
Citrus aurantium is a flowering, fruit-bearing evergreen tree native to tropical Asia, but is also found in tropical and subtropical regions. Citrus contains an array of flavonoids that can support health.


MAHP2000482

FAQ
---
What exactly is cardiovascular health?
The term cardiovascular health (also referred to as heart health) is used to describe a cardiovascular system that is strong and in good physical condition. By leading a more healthful lifestyle and through proper supplementation, you can significantly increase your chances of maintaining good cardiovascular health.


What does lifestyle have to do with heart health?
There are simple, everyday things you can do to help maintain proper heart health. Among these are:
• Not smoking

• Maintaining a healthy height-to-weight ratio
• Eating a diet rich in fruits, vegetable and whole grains
• Limiting the consumption of total and saturated fat
• Exercising regularly
• Monitor your blood pressure and heart health. Consult your healthcare professional for more information
• Supplements may be considered if required

Is the fish oil tested of heavy metals?
Yes. The fish oil used in Heart Health Essential Omega III Fish Oil with Vitamin E is tested twice, once from the manufacturer and then by an independent testing company. The fish oil used in Heart Health Essential Omega III Fish Oil with Vitamin E is laboratory tested for mercury, lead and other heavy metals.


Why is LDL cholesterol considered bad?
When too much LDL cholesterol circulates in the blood, it can slowly build up in the inner walls of the arteries that feed the heart and brain. Together with other substances, it can form plaque, a thick, hard deposit that can clog those arteries. If a clot forms and blocks a narrowed artery, it can cause serious heart problems.


Why is HDL cholesterol considered good?
About one-third to one-fourth of blood cholesterol is carried by high-density lipoprotein (HDL). HDL cholesterol is known as the good cholesterol because a high level of it seems to protect against heart problems. Medical experts think that HDL tends to carry cholesterol away from the arteries and back to the liver where it's passed from the body.


What are triglycerides and how are they related to HDL and LDL?
Triglyceride is a form of fat. It comes from food and is also made in your body. People with high triglycerides levels often have high overall cholesterol, which is high LDL and low HDL cholesterol levels.


How long is the shelf life of Heart Health System?
This product is best when used by two years from the date of manufacture.


Does Heart Health System contain pork or pork products?
No.


MAHP2000482

TLS Product Reviews
---
Displaying reviews 1 - 5 of 8
---
My mum love the packaging so much.. she doesn't have to worry.. daily she just open and eat safely..
---
Easy packaging for my mummy
I love this product Heart Health™ System - Single Box Includes Advanced LipiTrim Ultra, Essential Omega III Fish Oil, TriActive (30-Day Supply) of the easy packaging for my elderly..
---
Most Comprehensive Heart Health Supplements
This is one of the best Heart Supplements in the market. I love the comprehensive ingredients that address all aspects of cardiovascular protection. I love the packaging. It is so convenient to carry around.
Love it.
---
I love that these pills are packaged together. It makes it much h easier to r ed member to take them all and great for travelling.
Response from Customer Service:
23/5/2022
Dear Valued Customer,

Thank you for taking the time to share your thoughts on the Heart Health™ System! We are so happy to hear you are pleased with the product!

Thank you again!
The Product Information Team
---
Glad that there is a convenient pack available. My Dad is taking it on a regular basis now.
Response from Customer Service:
11/5/2022
Dear Valued Customer,

Thank you for taking the time to leave your thoughts on the Heart Health™ System. We are happy to hear you are pleased with the product.

Thank you again! Market Singapore Product Team