Heart Health™ Advanced LipiTrim™ Ultra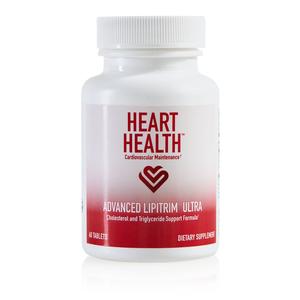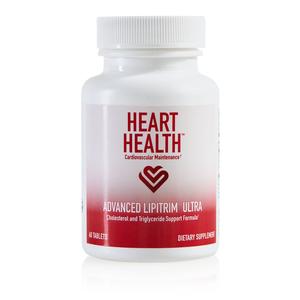 $76.50 SGD
GST of $5.67 SGD included
$1.42 SGD
Single Bottle (60 Servings)
SKU: SG13848
Benefits
---
Promotes healthy cholesterol production
Helps support healthy levels of total cholesterol, LDL cholesterol and triglyceride levels
support healthy cardiovascular function
Supports healthy blood vessels
Provides antioxidant support for the heart
Product Classifications
---
Gluten-Free - The finished product contains no detectable gluten
Vegan - The product is made without ingredients produced by or derived from animals.
No Pork - This product contains no pork or pork products.
Quality Standards - GMP Operations and Standardized Ingredients
Checked For: Heavy Metals, Microbiological Contaminants, Allergens, Potency, Purity and Identity
Details
---
Cardiovascular health is a serious concern worldwide. It is the leading cause of death in both men and women. An unhealthy diet of processed, high-calorie, high-fat foods, along with pollution, smoking and sedentary lifestyles all contribute to poor heart health. Not smoking, maintaining a healthy weight, and eating a diet rich in fruits, vegetables and whole grains, while exercising regularly, can all contribute to promoting cardiovascular health. Maintaining healthy cholesterol and triglyceride levels are also important to the overall health of the cardiovascular system.

Cholesterol is an important part of a healthy body as it is important for cell membrane and hormone production. Low-density lipoprotein (LDL) is often referred to as "bad" cholesterol, while high-density lipoprotein (HDL) is "good" cholesterol. Triglycerides are a form of fat made in the body.

The body naturally produces cholesterol and it can come from food. Eating saturated fat, trans fats and dietary cholesterol increases the overall amount of cholesterol in the blood. Because high cholesterol levels can be dangerous, it is important to maintain healthy levels, both the good and the bad, in the body.

Heart Health Advanced LipiTrim Ultra contains Capros®† Indian gooseberry fruit, Prickly Pear Cactus and citrus bioflavonoid complex of which can naturally help support healthy triglyceride and cholesterol levels, promote healthy cholesterol production and provide antioxidant support for the heart.



† Capros® is a registered trademark of Natreon, Inc. and is protected under U.S. Patent No. 6,124,268.
Ingredient
---
Capros Indian Gooseberry Fruit
Capros is a patented and a non-GMO Indian gooseberry fruit product. Indian gooseberry is native to India and parts of the Middle East and its fruits have been used in Ayurvedic medicine for thousands of years to promote longevity, strengthen the heart and eyes, and boost immunity. Although small, the fruits are a nutritious source of vitamins, minerals, amino acids, and a diverse blend of polyphenolic compounds. In fact, the edible fruit tissue contains 160 times the vitamin C of an apple.
Indian gooseberry has been well supported by scientific research to help maintain optimal cardiovascular health.
Prickly Pear (Opuntia ficus-indica) Leaf Powder
Prickly Pear Cactus, as call Nopal cactus, is an edible cactus native to Mexico and widely distributed in regions of Africa, Australia, and the Mediterranean basin. The cactus fruit and the leaves are edible and have been used traditionally for many health related concerns. Prickly pear cactus' fruit and leaves are considered functional foods as they impart health and wellbeing when eaten.
Citrus Bioflavonoid Complex (Citrus aurantium L.)
Citrus aurantium is a flowering, fruit-bearing evergreen tree native to tropical Asia, but is also found in tropical and subtropical regions. Traditionally the fruit has been used to treat digestive, heart and sleep concerns. Citrus contains an array of flavonoids that can support health.
FAQ
---
Why is LDL cholesterol considered bad?
When too much LDL cholesterol circulates in the blood, it can slowly build up in the inner walls of the arteries that feed the heart and brain. Together with other substances it can form plaque, a thick, hard deposit that can clog those arteries. If a clot forms and blocks a narrowed artery, it can cause serious heart problems.

Why is HDL cholesterol considered good?
HDL cholesterol is known as the good cholesterol because a high level of it seems to protect against heart problems. Medical experts think that HDL tends to carry cholesterol away from the arteries and back to the liver, where it is passed from the body. Some experts believe that HDL removes excess cholesterol from plaque in arteries, thus slowing the buildup.

What are triglycerides and how are they related to HDL and LDL?
A triglyceride is a form of fat. It comes from food and is also made by the body. People with high triglyceride levels often have high overall cholesterol.

Who should use this product?
Anyone over the age of 18 years who want to naturally support healthy cholesterol and triglyceride levels.

How do I take Heart Health Advanced LipiTrim Ultra?
As a dietary supplement, take 1 capsule in the morning and 1 capsule in the evening for a total of 2 capsules daily, or as directed by your healthcare provider.

Are there any contraindications or warnings for this product?
If you are currently using warfarin (Coumadin) or any other antiplatelet/anticoagulant medications, do not use this product without consulting your healthcare provider. You should not use this product if you have a history of hemophilia, bleeding peptic ulcers, hemorrhagic stroke or liver failure. If you are using any other prescription medication or have an ongoing medical condition, consult your healthcare provider before using this product. Women who are pregnant or breastfeeding should not use this product.

Does Heart Health Advanced Lipitrim Ultra contain pork or pork products?
No.
TLS Product Reviews
---
Displaying reviews 1 - 5 of 5
---
Prevention is better than cure
My father and his siblings have heart issues which makes me more concern about my cardiovascular health, that's why I had been watching my diet and eating Lipitrim faithfully to prevent heart issues.
---
Great Product for the heart
I started taking Hearth Heath Advanced LipidTrim with Omega Fish Oil 12 months ago. I used to be on medicine to lower my bad cholesterol but I stopped . My recent blood test results showed that both my LDL cholestrol have been lower and triglyceride levels have improved . I am very happy with the results and will continue to take as part of my daily supplementation.

---
Amazing Product by Summer
Very grateful that this product can helped to reduce my hubby cholesterol level. Thanks so much.
---
It's good n can let customers try what product it's that..
---