Isotonix® Immune (Pack of 3)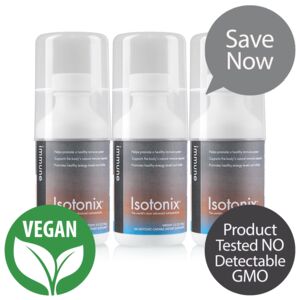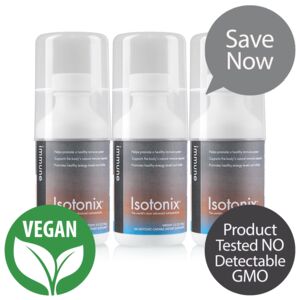 $151.00 SGD
GST of $9.88 SGD included
$2.82 SGD
Festive Immune Bundle [EXP 28/02/2023]_Non-refundable
SKU: SG139843SP
FEATURED RECOMMENDATIONS
Benefits
---
• Supports the body's natural immune response
• Promotes healthy energy levels and vitality
• Improves mental clarity
Product Classifications
---
Gluten-Free - The finished product contains no detectable gluten.

No Detectable GMO - The finished product contains no detectable genetically modified organisms.
Vegan - The product is made without ingredients produced by or derived from animals.
Isotonic-Capable Supplements - Easy-to-swallow isotonic supplements that allow for better nutrient absorption by the body.
No Pork - This product contains no pork or pork products.
Quality Standards - GMP Operations and Standardized Ingredients
Checked For: Heavy Metals, Microbiological Contaminants, Allergens, Potency, Purity and Identity
Details
---
Keeping your body healthy can be considered a full-time job. Often, despite your best efforts, the daily demands, commitments and ongoing stresses of a busy lifestyle create a situation in which the body's immune system may need extra support.

With its specific combination of immune-boosting ingredients—including the clinically-studied Wellmune —and the unique delivery system offered only by Isotonix, Isotonix Immune not only provides rapid absorption, it also supports the natural immune response. Using Isotonix Immune on a daily basis makes it that much easier to stay active, strong and healthy throughout the year.*

A healthy immune system helps form your foundation of health and wellness. Isotonix Immune is designed to support healthy energy levels, vitality and the body's natural immune response.

*This product(s) is not intended to diagnose, treat, cure or prevent any disease.
Isotonix Delivery System
---
Isotonix products offer one of the most efficient delivery systems in dietary supplements. Formulated using scientifically proven ingredients, Isotonix products provide both rapid delivery and good results.

Isotonix products are isotonic because they match the fluids in the body, which have an almost constant concentration of dissolved particles like salts, sugars and minerals. At this concentration, nutrients and molecules essential for cell metabolism are efficiently transported through cell membranes. Isotonix products are formulated with the proper balance of fructose, glucose, citric acid, potassium bicarbonate and other key ingredients to assure that they are isotonic when properly prepared.

Isotonix products deliver nutrients at the right rate and concentration for complete absorption of the nutrient-dense solution. Isotonix is one of the most scientifically advanced nutrient delivery systems on the market.

Ingredients
---
Wellmune®±
Wellmune is a natural yeast beta glucan derived from a proprietary strain of yeast, Saccharomyces cerevisiae. Wellmune works to support immune cells, which are part of the body's natural defenses. When Wellmune is ingested, immune cells in the gastrointestinal tract take it up and transport it to the immune organs throughout the body. While there, immune cells, called macrophages, digest the Wellmune into smaller fragments and slowly release them over a number of days. As they are released, the fragments bind to specific receptors (CR3) on neutrophils, which are the most abundant immune cells in the body. Wellmune supports the activity of the neutrophils and prime them for their normal activity in the body, including promoting immune health. It also supports the activity of phagocytic cells, which engulf and destroy foreign bodies, thus promoting immune health. Clinical studies have shown that Wellmune promotes a healthy immune system. The molecular structure of Wellmune, with its beta 1,3/1,6 branch points, is responsible for its unique biological activity.

±Wellmune® is a registered trademark of Kerry Luxembourg S.A.R.L.


Vitamin C
Vitamin C, also known as ascorbic acid, is a vitamin mostly found in fresh fruits and vegetables. Foods that are rich in vitamin C include peppers, citrus fruits and juices, brussels sprouts, cauliflower, cabbage, kale, collards, mustard greens, broccoli, spinach and strawberries. It is important to note that cooking and heat destroy vitamin C. Ascorbic acid is best known for its antioxidant properties. The capacity of vitamin C to support the immune system seems to be common knowledge. The body does not manufacture vitamin C on its own, nor does it store it. Therefore, vitamin C must be acquired through diet and supplementation.


Zinc
Zinc is largely found in fortified cereals, red meats, eggs, poultry and certain seafood including oysters. Zinc is an essential trace mineral that supports approximately 300 different enzyme reactions. Thus, zinc plays a part in almost all biochemical pathways and physiological processes. More than 90 percent of the body's zinc is stored in the bones and muscles, but zinc is also found in virtually all body tissues. It has been claimed that zinc supports the immune system. Because zinc is involved in such a great number of enzymatic processes it has been found to support a large range of functions including energy production and cognitive function.

FAQs
---
What will Isotonix Immune do for me?
Isotonix Immune is designed to help support immune health and promote the beneficial activity of your body's own immune cells, keeping them primed for response.*


Who should use Isotonix Immune?
Adults over the age of 18 who are interested in promoting their immune health, enhancing their natural immune response, and promoting healthy energy levels and vitality throughout the year.

How do you support a strong immune system?
There are many ways to provide your immune system with general support, including exercise, good nutrition, proper rest and stress management. There are also several nutrients that help promote a healthy immune system, such as vitamin C, zinc and beta glucans.*


May I take Isotonix Immune with over the counter medications?
As with any dietary supplement, you should consult your healthcare provider before combining it with any over the counter or prescription medications.


Which other products are best combined with Isotonix Immune?
Isotonix Immune can be effectively combined with any other nutritional supplement related to general health, such as a Isotonix Multivitamin, Isotonix Maximum ORAC or Isotonix Calcium Plus. In addition, this product can be paired with Heart Health™ Essential Omega III Fish Oil with Vitamin E.


How do I take Isotonix Immune?
Mix one (1) level capful with 60 ml of water and drink. Maximum absorption occurs when taken on an empty stomach.


Should I take Isotonix Immune every day?
Immune should be taken daily as a dietary supplement. The immune system is an active component of the body, working constantly—as such, you should provide it with constant support to help you maintain optimal health and general well-being.*


Does Isotonix Immune contain pork or pork products?
No.


Is Isotonix Immune manufactured in a Good Manufacturing Practice (GMP) facility?
Yes, this product is manufactured in a GMP compliant facility.


*This product(s) is not intended to diagnose, treat, cure or prevent any disease.