Isotonix® Acai Advanced Energy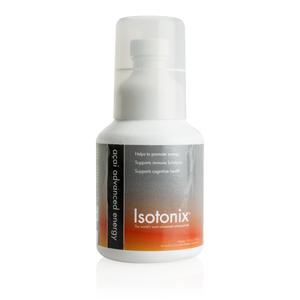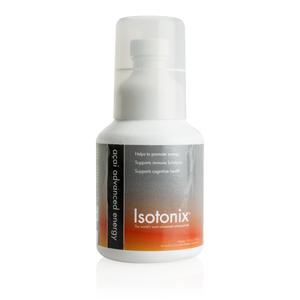 $90.50 SGD
GST of $6.70 SGD included
$1.68 SGD
Single Bottle (45 Servings)
SKU: SG13059
FEATURED RECOMMENDATIONS
Benefits
---
Helps to promote energy
Supports immune functions
Supports cognitive health
Product Classifications
---
Gluten-Free - The finished product contains no detectable gluten
No Detectable GMO - The finished product contains no detectable genetically modified organisms.
Isotonic-Capable Supplements - Easy-to-swallow isotonic supplements that allow for better nutrient absorption by the body.
No Pork - This product contains no pork or pork products.
Quality Standards - GMP Operations and Standardised Ingredients
Checked For: Heavy Metals, Microbiological Contaminants, Allergens, Potency, Purity and Identity
Details
---
Isotonix Açai Advanced Energy is an isotonic-capable dietary supplement, made from a combination of açai berries, guarana, yerba maté, mangosteen, pomegranate, green tea and essential amino acids. The proprietary blend of Isotonix Açai Advacned Energy helps to promote energy, support immune functions, and support cognitive health. Isotonix Açai Advanced Energy will help the body stay energised and active while providing a sound antioxidant formula. Containing antioxidant-laden ingredients like mangosteen and pomegranate, which have high ORAC values, Isotonix Açai Advanced Energy is an asset to daily dietary supplementation.

Isotonic, which means "same pressure," bears the same chemical resemblance of the body's blood, plasma and tears. All fluids in the body have a certain concentration, referred to as osmotic pressure. The body's common osmotic pressure, which is isotonic, allows a consistent maintenance of body tissues. In order for a substance to be absorbed and used in the body's metabolism, it must be transported in an isotonic state.

Isotonix dietary supplements are delivered in an isotonic solution. This means that the body has less work to do to in obtaining maximum absorption. The isotonic state of the suspension allows nutrients to pass directly into the small intestine and be rapidly absorbed into the bloodstream. With Isotonix products, little nutritive value is lost, making the absorption of nutrients highly efficient while delivering maximum results.
Isotonix Delivery System
---
Isotonix products offer one of the most efficient delivery systems in dietary supplements. Formulated using scientifically proven ingredients, Isotonix products provide both rapid delivery and good results.

Isotonix products are isotonic because they match the fluids in the body, which have an almost constant concentration of dissolved particles like salts, sugars and minerals. At this concentration, nutrients and molecules essential for cell metabolism are efficiently transported through cell membranes. Isotonix products are formulated with the proper balance of fructose, glucose, citric acid, potassium bicarbonate and other key ingredients to assure that they are isotonic when properly prepared.

Isotonix products deliver nutrients at the right rate and concentration for complete absorption of the nutrient-dense solution. Isotonix is one of the most scientifically advanced nutrient delivery systems on the market.
FAQ
---
Since Açai is isotonic, why does it need caffeine? Would it not be more potent if it were more slowly absorbed?
Caffeine is present as a natural component of the ingredients contained in Isotonix Açai Advanced Energy. Whether isotonic or not, caffeine provides an extra 'energy push' for those who want it. No, this product would not be more potent if it were absorbed more slowly.

Are there any contraindications or warnings for this product?
If you are currently using monoamine oxidase inhibitors (MAOI) or angiotensin converting enzyme (ACE) inhibitors, you should not use this product. If you have phenylketonuria (PKU), high blood pressure, thyroid disease/Graves' disease, schizophrenia or bipolar disorder you should not use this product. Take this supplement separately from prescription medications. If you are currently using any prescription medications, have an ongoing medical condition, or if you are pregnant or breastfeeding, consult your healthcare provider before using this product. This product contains green tea extract with rare reported cases that may lead to potential liver issue, if you have or have had liver problems or have concern on taking green tea extract, please consult your healthcare provider.

Can Isotonix Açai Advanced Energy be taken with Isotonix OPC-3™?
Yes, Isotonix Açai Advanced Energy and Isotonix OPC-3 would complement each other when taken together.

Can I take Isotonix Açai Advanced Energy if I have high blood pressure?
This would depend on which medication a person has been prescribed. For example, angiotensin converting-enzyme (ACE) inhibiting medications may interact adversely with certain ingredients in Açai. Please see warning section on the label. If someone is taking any medication, it is always best to check with a physician before starting any herbal nutritional product.

Can Isotonix Açai Advanced Energy be taken with other Isotonix products? If so, which ones?
Yes. Isotonix Açai Advanced Energy can safely be taken with other Isotonix products, provided one follows the recommended serving size for each product. Isotonix OPC-3, Calcium Plus, Multivitamin without Iron, etc. can all be taken with Isotonix Açai Advanced Energy.

How should I take Isotonix Açai Advanced Energy?
Pour 2 level, white bottle capfuls of powder into a cup. Add 4 fl. oz./120 mL (line on the overcap indicates 2 fl. oz./60 mL) of water and stir. As a dietary supplement, take once daily or as directed by your healthcare provider. Maximum absorption occurs when taken on an empty stomach.

Are there any allergens in Isotonix Açai Advanced Energy?
Isotonix Açai Advanced Energy contains no wheat, soy, yeast, gluten, artificial flavour, starch, salt, preservatives or milk.

Does Isotonix Acai Advanced Energy contain pork or pork products?
No.

Does this product have "No Detectable GMOs"?
This product is tested with no GMO detected. This product's raw material may contain genetically modified materials/ingredients, but the finished product does not contain any transgenic DNA fragments or transgenic proteins.

Is Isotonix Acai Advanced Energy manufactured in a Good Manufacturing Practice (GMP) facility?
Yes, this product is manufactured in a GMP compliant facility which is inspected by the Food and Drug Administration (FDA) of the United States of America.
TLS Product Reviews
---
Displaying reviews 1 - 5 of 45
---
this is better than coffee, I drink it every morning before i start work. It gives me the energy to stay alert and focus the whole day. it tastes really good too.
---
I love Isotonix Acai ! Great Berry taste and refreshing! It's my before exercise drink. It boost my performance.
Response from Customer Service:
22/3/2022
Dear Valued Customer,

Thank you for taking the time to leave your thoughts on the Isotonix® Acai Advanced Energy. We are happy to hear you are pleased with the product.

Thank you again!
Market Singapore Product Team
---
i love this Isotonix Acai and it's my "must drink" everyday the past 6 years, it help to boost my energy level, keep me fresh the entire day, and its also my super antioxidant drink to keep me young and healthy
---
A must every morning as I usually doesn't get enough sleep. This gives me the energy to stay sharp & focus while running my daily errand.
---
Gives me Energy and Wakes me Up
Whenever I feel tired in the middle of the day, I will take two spoons of this with water and it would give me energy and make me alert again. Better than taking coffee!
Response from Customer Service:
9/2/2021
Dear Valued Customer,

Thank you for taking the time to leave your thoughts on the Isotonix® Acai Advanced Energy! We are happy to hear you are pleased with the product.

Thank you again!
Market Singapore Product Team