Isotonix® Complete Greens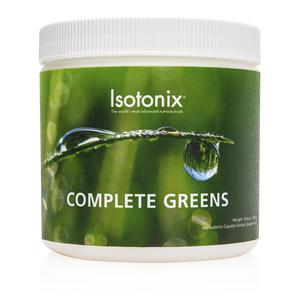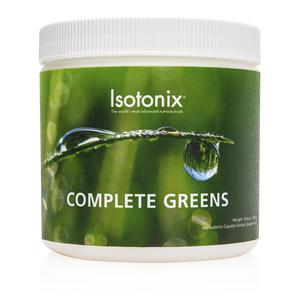 $78.50 SGD
GST of $5.81 SGD included
$1.45 SGD
Single Canister (30 Servings)
SKU: SG13859
FEATURED RECOMMENDATIONS
Benefits
---
• Aids in providing the body with plant-sourced nutrients and phytonutrients
• Helps to support energy levels
• Helps to support overall health
• Contains organic ingredients

*This product is not intended to diagnose, treat, cure or prevent any disease.
Product Classifications
---
Gluten-Free - The finished product contains no detectable gluten
Vegan - The product is made without ingredients produced by or derived from animals.

Isotonic-Capable Supplements - Easy-to-swallow isotonic supplements that allow for better nutrient absorption by the body.
No Pork - This product contains no pork or pork products.
Quality Standards - GMP Operations and Standardised Ingredients
Checked For: Heavy Metals, Microbiological Contaminants, Allergens, Potency, Purity and Identity
Details
---
The importance of consuming a balanced diet every day is nothing new, yet many people are still not getting an adequate amount of nutrients in their daily diet. Is your daily routine lacking in plant-based nutrients? Isotonix Complete Greens helps add nutritive value to your diet with organic greens.

Isotonix Complete Greens helps with maintaining overall health. The formula features a combination of wheat grass, barley grass, alfalfa grass, spirulina, chlorella, broccoli powder, spinach powder and cabbage powder. Just scoop and mix with water for a serving of plant-sourced nutrients. As the market's only isotonic-capable greens supplement, you get the added benefit of our Isotonix delivery system: rapid absorption, high concentration of nutrients and maximum results!



Isotonix Delivery System
---
Isotonix products offer one of the most efficient delivery systems in dietary supplements. Formulated using scientifically proven ingredients, Isotonix products provide both rapid delivery and good results.

Isotonix products are isotonic because they match the fluids in the body, which have an almost constant concentration of dissolved particles like salts, sugars and minerals. At this concentration, nutrients and molecules essential for cell metabolism are efficiently transported through cell membranes. Isotonix products are formulated with the proper balance of fructose, glucose, citric acid, potassium bicarbonate and other key ingredients to assure that they are isotonic when properly prepared.

Isotonix products deliver nutrients at the right rate and concentration for complete absorption of the nutrient-dense solution. Isotonix is one of the most scientifically advanced nutrient delivery systems on the market.

Ingredients
---
Organic Spirulina
Spirulina is a blue-green cyanobacteria featuring a wide range of nutrients, including chlorophyll, carotenoids, and gamma-linolenic acid (GLA). It is also a source of phytonutrients, which are plant-produced chemicals with health-promoting qualities. Additionally, spirulina contains a unique blue pigment called phycobiliprotein, only found in blue-green algae, that helps promote overall health.

Organic Wheat Grass
Wheatgrass contains various nutrients that support a healthy immune system and energy levels. These include chlorophyll and flavonoids that have health supporting properties.

Organic Barley Grass
Barley grass contains many nutrients that support health. It is a source of chlorophyll, which has some health-promoting functions. The leaves are able to absorb trace nutrients from the soil, which in turn may complement the human diet. The root of barley grass contains hordenine, an alkaloid that may contribute to energy levels.

Organic Alfalfa Grass
Generally nutritive in value, alfalfa is a perennial herb that grows throughout the world. The leaves of the plant contain beneficial nutrients. Alfalfa supports the immune system and energy levels.

Organic Chlorella
Chlorella is a species of green algae found in still fresh water. It contains a considerable amount of micronutrients and phytonutrients that are good for overall health, including immune health.

Organic Broccoli Powder
Broccoli powder helps support the body's health. Broccoli powder may serve as a beneficial addition to your daily diet.

Organic Spinach Powder
Spinach powder provides additional nutrients to the diet that support overall health.

Organic Cabbage Powder
Cabbage powder supports the health and well-being of the body by providing vitamins and minerals.



FAQ
---
What does Isotonix mean?
Isotonix dietary supplements are delivered in an isotonic liquid solution. This means that the body has less work to do in obtaining maximum absorption. The isotonic state of the suspension allows nutrients to pass efficiently into the small intestine and be rapidly delivered into the bloodstream. With Isotonix products, little nutritive value is lost, making the absorption of nutrients highly efficient while delivering maximum results.

Who should take this product?
Anyone 18 years of age or older who wants to supplement their diet with plant-based nutrients.

What are phytonutrients?
Phytonutrients are certain organic components of plants that have nutritive properties.

How do you take Isotonix Complete Greens?
Pour two level scoopfuls of powder into a cup. Add 180ml of water and stir. For optimal results, take once daily on an empty stomach. This product is isotonic ONLY if the specified amounts of powder and water are used.

Do I still need to eat vegetables when taking Isotonix Complete Greens?
Yes, Isotonix Complete Greens should be used to supplement the diet, not replace any plant food sources.

How does Isotonix Complete Greens compare to other greens products on the market? Isotonix Complete Greens is the only isotonic-capable greens supplement on the market, which makes delivery of nutrients highly efficient while offering a comprehensive blend of phytonutrients for maximum results.

Are there any warnings or contraindications for this product?
If you are currently taking warfarin [Coumadin], other anti-platelet / anti-coagulant medications, immunosuppressants or any other prescription medications, have an ongoing medical condition, or if you are pregnant or breastfeeding, you should consult your healthcare provider before using this product. Do not use this product if you are allergic to any of the ingredients. Do not use if safety seal is broken or missing.

Does Isotonix Complete Greens contain pork or pork products?
No.

Is Isotonix Complete Greens manufactured in a Good Manufacturing Practice (GMP) facility?
Yes, this product is manufactured in a GMP compliant facility which is inspected by the Food and Drug Administration (FDA) of the United States of America.



TLS Product Reviews
---
Displaying reviews 1 - 5 of 37
---
First time trying the Product and so far I think It's Awesome. It"s replacing all the nutrients that I'm missing in my everyday diet.
Response from Customer Service:
30/1/2023
Dear Valued Customer,

Thank you for taking the time to share your thoughts on the nutraMetrix Isotonix® Complete Greens! We are so happy to hear you are pleased with the product!

Thank you again!
The Product Information Team
---
Yummy Veggies, says nobody
I take veggies, but these are great added supplement to my vegetable intake. It taste great. Even my husband who does not take vege at all, love love love THIS.
---
1/10/2022
by BODYNEEDS ENTC
My go-to on days when my vegetables intake fall short so I won't miss out the micro nutrients from veggies.
---
My son don't take much Veg and fruits. This come so handy to provide some vitamin and fiber for him. And also taste nice and acceptable to him
---
Finally a likable vegetable juice!!
I have tried many vegetable juice, they need acquired palates to appreciate it :(.
This Complete green has just raised the bar. No more grassy odour, a surprisingly tasty juice that best served when chilled, not to mentioned the benefits that comes with it.