Isotonix® Magnesium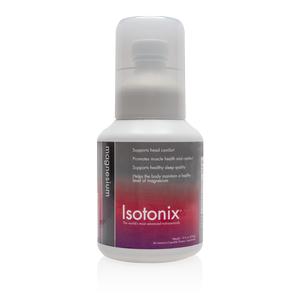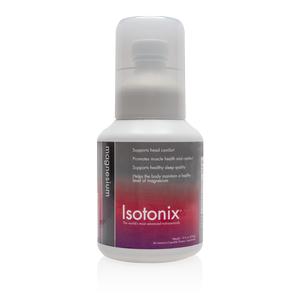 $69.50 SGD
GST of $5.15 SGD included
$1.29 SGD
Single Bottle (90 servings)
SKU: SG12989
FEATURED RECOMMENDATIONS
Benefits
---
Supports muscle health and comfort
Supports sleep quality
Supports bone health
Helps the body maintain healthy magnesium levels

Gluten-Free - The finished product contains no detectable gluten.
No Detectable GMO - The finished product contains no detectable genetically modified organisms.
Vegan - The product is made without ingredients produced by or derived from animals.

Isotonic-Capable Supplements: Easy-to-swallow isotonic supplements that allow for better nutrient absorption by the body. Individual response varies.
No Pork - This product contains no pork or pork products.
MAHP2000196
Details
---
Magnesium is an abundant mineral in the body. One of the main uses of magnesium in the body is its support of protein synthesis. In other words, this process supports the body's ability to "make" proteins. The recommended dietary allowance for adults ranges from 310mg to 420mg of magnesium. Isotonix Magnesium provides the body with 100 percent of the recommended daily value of magnesium in a highly-bioavailable formula. Thanks to its unique formula, which includes two different types of magnesium to increase its absorption by the body, Isotonix Magnesium helps support muscle and nerve health and sleep quality.

MAHP2000196

Ingredients
---
Magnesium
Magnesium is a component of the mineralized part of bone and supports the normal metabolism of potassium and calcium in adults. It helps maintain normal levels of potassium, phosphorus and calcium. It also supports the normal mobilization of calcium, transporting it inside the cell for further utilization. It plays a key role in supporting the normal functioning of muscle and nervous tissue.

Magnesium works together with calcium to help maintain the normal regulation of the heart and blood pressure. Importantly, magnesium also supports the body's ability to build healthy bones and teeth, and promotes proper muscle development. It works together with calcium and vitamin D to help keep bones strong.

Potassium
Foods rich in potassium include fresh vegetables and fruits such as bananas, oranges, cantaloupe, avocado, raw spinach, cabbage and celery. Potassium is an essential mineral that helps to keep fluid balance. It also plays a role in a wide variety of biochemical and physiological processes. Potassium supports normal muscle relaxation.

MAHP2000196

FAQ
---
What benefits does magnesium provide the body?
With regards to bone health, it is an important component of the mineralized part of bone, and supports the normal metabolism of calcium and potassium in adults. Magnesium works together with calcium and vitamin D to help keep bones strong and support bone mineral density. Magnesium also supports muscle and the transmission of nerve impulses to the muscles. Adequate magnesium levels are also important for cardiovascular health. Magnesium supports a healthy heart.

How much magnesium should I be getting, and why do I need a magnesium supplement versus getting it from my normal diet?
The recommended dietary allowance for adult males between the ages of 19 and 30 should be receiving 400 mg of magnesium daily. Adult females of the same age should receive 310 mg daily. For older males, the recommendation is 420 mg daily, while older females should consume 320 mg daily. Daily lifestyle factors and poor dietary choices adversely affect the amount of magnesium we are ingesting. Foods rich in magnesium include whole grains, nuts and green vegetables, which are good sources of magnesium because of their chlorophyll content. Meats, starches, dairy products and refined and processed foods – which make up a large portion of the typical diet in today's society – contain low amounts of magnesium. High-fat diets provide lesser amounts of magnesium. For these reasons, it is important to help balance our diets with nutritional supplements that can provide additional nutritional assistance.

Why were these forms of magnesium (citrate and glycinate) chosen?
Both forms of magnesium were carefully chosen based on scientific research, as they work well within the Isotonix delivery system.

Should this product be taken on an empty stomach?
Yes. For maximum absorption, this product should be taken on an empty stomach.

Is there anyone who should not take this product?
Anyone who has an ongoing medical condition, is pregnant or breastfeeding, or is taking prescription medication should speak with their healthcare provider before taking this product. Also, magnesium should be used cautiously by those with reduced kidney function.

What other health and nutrition products can be taken with Isotonix Magnesium?
Isotonix Magnesium can be taken with Isotonix OPC-3, Isotonix Calcium Plus, and Heart Health™ Omega III Fish Oil with Vitamin E.

Does Isotonix Magnesium contain pork or pork products?
No.

Is Isotonix Magnesium manufactured in a Good Manufacturing Practice (GMP) facility?
Yes, this product is manufactured in a GMP compliant facility.

MAHP2000196

TLS Product Reviews
---
Displaying reviews 1 - 5 of 44
---
Very helpful when I have cramps
Occasionally I will have cramps at night and this really helped me to relax the tension of my muscles.
---
Really great for keeping me relaxed
---
I can defiantly tell the difference after taking the Magensium for more than a month. I take it in the morning on an empty stomach. Great product
Response from Customer Service:
29/9/2022
Dear Valued Customer,

Thank you for taking the time to share your thoughts on the nutraMetrix Isotonix® Magnesium! We are so happy to hear you are pleased with the product!

Thank you again!
The Product Information Team
---
This help to enhance my sleep quality whenever I take this my tracker show that I have enough deep sleep.

---
Help me relax my muscle and sleep at night.