Optimal Wellness Kit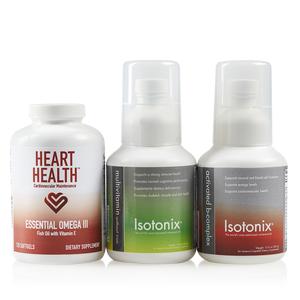 $247.00 SGD
$274.50 SGD
GST of $18.30 SGD included
$4.57 SGD
This kit includes: One Isotonix® Multivitamin Without Iron; One Isotonix® Activated B-Complex; One Heart Health™ Essential Omega III Fish Oil With Vitamin E MAHP2300045 MAHS2100112
SKU: SG6475
FEATURED RECOMMENDATIONS
Details
---
This kit includes: One Isotonix® Multivitamin Without Iron, One Isotonix® Activated B-Complex, One Heart Health™ Essential Omega III Fish Oil With Vitamin E
MAHP2300045
MAHS2100112

TLS Product Reviews
---
Displaying reviews 1 - 4 of 4
---
a good combo for overall wellness, and even better, there is discount!

Response from Customer Service:
6/9/2021
Dear Valued Customer,

Thank you for taking the time to leave your thoughts on the Optimal Wellness Kit! We are happy to hear you are pleased with the product.

Thank you again!
Market Singapore Product Team

---
---
Love the product. Great taste and packed with all the essential of nutrients.
---
No use at all
Response from Customer Service:
25/5/2021
Dear Valued Customer


We will be contacting you to know more about your product experience to provide assistance.


Thank you
Market Singapore Product Team