Prime™ Joint Support Formula by Isotonix®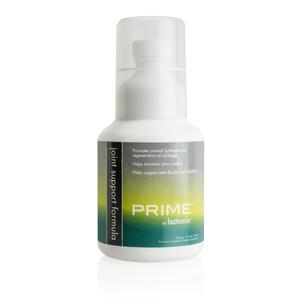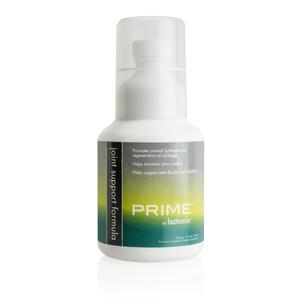 $120.50 SGD
GST of $8.93 SGD included
$2.23 SGD
Single Bottle (45 Servings)
SKU: SG13081
FEATURED RECOMMENDATIONS
Benefits
---
Helps to promote normal synthesis and regeneration of cartilage
Helps to maintain joint comfort
Helps to support joint fluidity and flexibility
Product Classifications
---
Gluten-Free - The finished product contains no detectable gluten
No Detectable GMO - The finished product contains no detectable genetically modified organisms.
Isotonic-Capable Supplements - Easy-to-swallow isotonic supplements that allow for better nutrient absorption by the body.
No Pork - This product contains no pork or pork products.
Quality Standards - GMP Operations and Standardised Ingredients
Checked For: Heavy Metals, Microbiological Contaminants, Allergens, Potency, Purity and Identity
Details
---
As the body ages, many people experience joint discomfort. One option is to take a joint supplement to help promote overall bone and joint health. When looking at a joint supplement, there are three main ingredients found in most products on the market: glucosamine, chondroitin and methylsulfonylmethane, more commonly referred to as MSM.

The research on both chondroitin and MSM is very controversial. Chondroitin, for instance, has very poor absorption due to its high molecular weight. Also, one of chondroitin's mechanisms is to increase the hyaluronic acid content of synovial fluid; while the new Prime Joint Support Formula by Isotonix directly provides hyaluronic acid. Hyaluronic acid plays an important role in tissue hydration and lubrication. Likewise, research on MSM is not conclusive. In fact, it takes large quantities of MSM daily (2-6 grams) to make a difference and see effects.

Prime Joint Support Formula contains glucosamine, which is naturally produced by the body and acts as a key component of cartilage. An aminomonosaccharide (a combination of the amino acid — glutamine and a sugar — glucose), glucosamine is concentrated in joint cartilage, where it supports healthy joint function. Prime Joint Support Formula also contains the powerful antioxidant Pycnogenol.

Prime Joint Support Formula is the only product on the market delivering glucosamine, Pycnogenol and hyaluronic acid in isotonic form.

Isotonic, which means "same pressure," bears the same chemical resemblance of the body's blood, plasma and tears. All fluids in the body have a certain concentration, referred to as osmotic pressure. The body's common osmotic pressure, which is isotonic, allows a consistent maintenance of body tissues. In order for a substance to be absorbed and used in the body's metabolism, it must be in an isotonic state.

Isotonix dietary supplements are delivered in an isotonic solution. This means that the body has less work to do to obtain maximum absorption of the nutrients. The isotonic state of the suspension allows nutrients to pass directly into the small intestine and rapidly absorb into the bloodstream. With Isotonix products, little nutritive value is lost, making the absorption of nutrients highly efficient while delivering maximum results.
Isotonix Delivery System
---
Isotonix products offer one of the most efficient delivery systems in dietary supplements. Formulated using scientifically proven ingredients, Isotonix products provide both rapid delivery and good results.

Isotonix products are isotonic because they match the fluids in the body, which have an almost constant concentration of dissolved particles like salts, sugars and minerals. At this concentration, nutrients and molecules essential for cell metabolism are efficiently transported through cell membranes. Isotonix products are formulated with the proper balance of fructose, glucose, citric acid, potassium bicarbonate and other key ingredients to assure that they are isotonic when properly prepared.

Isotonix products deliver nutrients at the right rate and concentration for complete absorption of the nutrient-dense solution. Isotonix is one of the most scientifically advanced nutrient delivery systems on the market.
Ingredients
---
Glucosamine
Glucosamine is a molecule that is naturally synthesized in the body from glucose and the amino acid glutamine. Glucosamine is an important constituent of glycosaminoglycans in cartilage matrix and synovial fluid. As our bodies age, we are less able to produce glucosamine, resulting in cartilage that is less flexible and weak. Although the mechanism is currently unclear, studies have shown that glucosamine supplementation can support normal, healthy cartilage cell production to help maintain overall joint health.

Pine Bark Extract (Pycnogenol)
Pycnogenol is a water-soluble flavonoid complex with powerful benefits. Pycnogenol, similar to the proanthocyanins found in grape seeds, is extracted from the bark of the French Maritime Pine tree.

Pycnogenol has been shown help maintain the body's natural defenses and supporting good health. In addition, studies have shown Pycnogenol has the ability to support the cross-linking of collagen fibers and other connective tissue.

Hyaluronic Acid
Hyaluronic acid plays an important role in tissue hydration and lubrication. Although it is produced naturally by the body, the level of hyaluronic acid diminishes with age, contributing to joint discomfort. It is a key component of cartilage and is important for joint health. Hyaluronic acid has been shown to help maintain strong, healthy cartilage and enhance synovial fluid production.
FAQs
---
Who should take Prime Joint Support Formula by Isotonix?
This product is for ADULT USE ONLY. This product would be good for any adult that wishes to support and maintain healthy joints.

What other products should I take with Prime Joint Support Formula by Isotonix to support my joint health?
Heart Health™ Essential Omega III Fish Oil with Vitamin E is a great pair with Prime Joint Support Formula as Omega III fatty acids have been shown to support healthy joint lubrication.

How should I take Prime Joint Support Formula?
Pour 2 level, white bottle capfuls of powder into a cup. Add 120 ml of water and stir. As a dietary supplement, take once daily or as directed by your healthcare provider. Maximum absorption occurs when taken on an empty stomach. This product is isotonic only if the specified amounts of powder and water are used.

Most bone and joint formulas contain chondroitin sulfate. Why doesn't Isotonix Prime Joint Support Formulahave this ingredient?
Chondroitin acts in a similar way to glucosamine; however, many studies performed on chondroitin have had inconclusive results regarding its effectiveness.

Does Prime Joint Support Formula by Isotonix contain pork or pork products?
No.

Does this product have "No Detectable GMOs"?
This product is tested with no GMO detected. This product's raw material may contain genetically modified materials/ingredients, but the finished product does not contain any transgenic DNA fragments or transgenic proteins.

Is Prime Joint Support Formula by Isotonix manufactured in a Good Manufacturing Practice (GMP) facility?
Yes, this product is manufactured in a GMP-compliant facility which is inspected by the Food and Drug Administration (FDA) of the United States of America.
TLS Product Reviews
---
Displaying reviews 1 - 5 of 53
---
Very east to take. Highly recommend.
Response from Customer Service:
23/3/2023
Dear Valued Customer,

Thank you for taking the time to share your thoughts on the Prime™ Joint Support Formula by Isotonix®! We are so happy to hear you are pleased with the product!

Thank you again!
The Product Information Team
---
My favourite Joint support supplement!
The taste is great and I drink it everyday to maintain my joint health!!😘
---
I used to have knees pain whenever I climb the stairs. After taking Prime Joint, I could climb the stairs much easier without feeling much pain.
---
保持灵活动作 !
Response from Customer Service:
11/4/2022
Dear Valued Customer,

Thank you for taking the time to leave your thoughts on the Prime™ Joint Support Formula by Isotonix®. We are happy to hear you are pleased with the product.

Thank you again!
Market Singapore Product Team
---
At first I didn't quite like it as I thought I have more than sufficient supplements. Then when I started to get numbness at my joints of my hands, I decided to give it another chance. Like miracle, after 2 days, my numbness was gone. I highly recommend this if you've joint or numbness problem.
Response from Customer Service:
4/6/2021
Dear Valued Customer,

Thank you for taking the time to leave your thoughts on the Prime™ Joint Support Formula by Isotonix®! We are happy to hear you are pleased with the product.

Thank you again!
Market Singapore Product Team