TLS® Nutrition Shakes – Cookies & Cream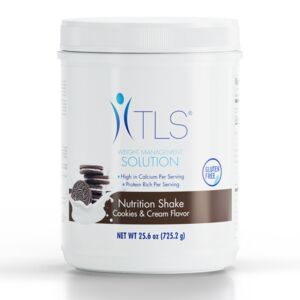 $63.75 SGD
$1.19 SGD
Single Bottle (14 Servings)
SKU: SG6422
TLS Product Reviews
---
Displaying reviews 1 - 5 of 8
---
---
Has a great taste and so far I love it!
Response from Customer Service:
29/8/2022
Dear Valued Customer,

Thank you for taking the time to share your thoughts on the TLS® Nutrition Shakes - Cookies & Cream! We are so happy to hear you are pleased with the product!

Thank you again!
The Product Information Team
---
Love the looks and the taste of baking with the new cookies & cream nutrition shake. 😋😋😋
---
Tastes super indulgent - can't believe it's good for you! I use primarily after a workout, but also a great mid-day snack! PLEASE bring back the Pumkin Spice flavor this fall!!
Response from Customer Service:
26/7/2022
Dear Valued Customer,

Thank you for taking the time to share your thoughts on the TLS® Nutrition Shakes - Cookies & Cream! We are so happy to hear you are pleased with the product! We will certainly share your request for the Pumpkin Spice flavor with the product management team.

Thank you again!
The Product Information Team
---
Tastes line I am having a wonderful not too sweet dessert … its full of vitamins and protein and fiber and only 2 grans of sugar!
Great quick nutritious meal on the go!
Gabriele
Response from Customer Service:
17/6/2022
Dear Valued Customer,

Thank you for taking the time to share your thoughts on the TLS® Nutrition Shakes - Cookies & Cream! We are so happy to hear you are pleased with the product!

Thank you again!
The Product Information Team