Ultimate Aloe® Powder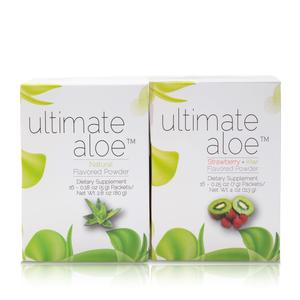 TLS Product Reviews
---
Displaying reviews 1 - 5 of 73
---
Best product for cough and flu
My whole family will take this aloe juice whenever someone feel unwell, especially useful for cough and flu, plus it helps in digestion. Something we will bring along everywhere we go.
---
Tasty after meal drinks easing our digestion. Good for sharing too.
---
A must after exercise/workout
Drink after every workout to get my body hydrate fast
---
Great drinks for sore throat
Whenever I travel, my water intake is lesser, I will mix 2 sachets of aloe in my water bottle and sip it throughout the day, so far it has helped to prevent my throat from getting too dry n uncomfortable. I like to include aloe during a detox.

---
Tasty & healthy Ultimate Aloe - Pink Juice!
Really love this Ultimate Aloe - Pink Juice! Strawberry Kiwi favour is my all-time favourite. Adults enjoy it and children love it too! Cool Beverage after meal too.